So I thought I'd blog a little more to finish off what I was writing last night before I was rudely interuptted by Nicky wanting sleep: I suppose I can let her off, but only because she's pregnant.
Quite convienient that I choose to blog some more today, becuase dearest Mr Zuchini uploaded all the images of his from the weekend to his PhotoBucket account, and decided to tag me in some of the pictures on Facebook, so anyone who's in my friends list on Facebook can see all the images in the gallery if they like.
For those of you without access to my Facebook account, I've added one of the images from the lot to this blog, assuming you can see, you'll see a nice picture of me and Fruity walking down the road like some kind of couple…not that we are…honest.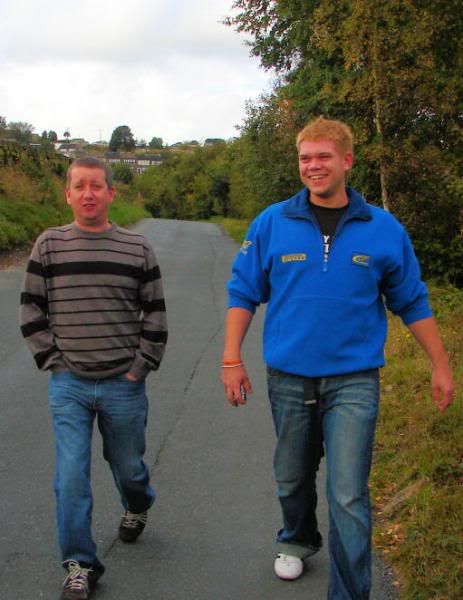 This picture was taken on the Saturday whilst we where on out on our quest to the village.
Now that the weekend has passed, I'm starting to get withdrawl symptoms from the BBQ bourbun smoked ribs that Jimmae did, and also the Cherry and Almond flapjacks that Eroeen made, so I will be demanding recipies for both from both of them to give me a cure for the itch.
I would like to finish off talk of the weekend with a big thanks to Jimmae for letting us all in his house, and inviting me, Nicky and Maddy, and to everyone who was there for making the weekend the weekend. It was a shame that some others couldn't make it, but these things happen.
Moving on to other topics, I'm going to talk about the Forum and the Blog here at Baby-Green. Those of you who have used either before might notice something different, something a little more colourful, something a little more…purple.
As part of the construction of the new site which is still ongoing, I wanted the forum, the blog and the website to look at least viagly like they had something to do with each other whereas previously, they where like 3 totally unique and seperate objects. Whilst none of you will be able to see the new design of the actual site just et while I'm still producing everything, I think you will agree that the forum and the blog sites both look a lot nicer now that they are customised  from the default settings. I've gone through and changed as much as I am able to, including the background images, colour schemes, fonts etc so I really hope you all enjoy the new browsing experience.
Whilst working on the blog, I've upgraded the blog version so that it is running the newest version to make it faster I've also tidied up the sidebar on the right to make it more productive for you all to use. The Archive section has had a plugin applied so thanks to Ady Romantika for that one. This compacts the Archive section into the base years, and if you want to drill down within a year, simply click on it.
I've also made it easier for people to comment on blogs posted here by lifting the imposed limit for registered users, meaning that you no longer need to be registered to be able to comment. I've done this thanks to the Akismet plugin by Matt Mullenweg which means that everytime a comment is left, the contents of the comment is looked up against a spam database and if it believes it to be spam, it blocks the comment. If you post a legitimate comment, and it doesn't appear, give it time. I am notified of all blocked comments, and will review them and release genuine ones.
That's all for tonight, so keep well and I'll be back.